For terraces, attics, balconies, swimming pools, spaces where it is necessary to keep the substrate inspectable and ensure the elimination of rainwater. A very tested installation, on modular and adjustable supports that allow the flooring to be adapted to different technical and aesthetic needs.
Removable or fixed installation
The simplest and fastest application.
The sheets can be repositioned if necessary.
The slabs are placed on the ground according to preferred laying patterns, with staggered or running joints: if the size of the joint allows it (minimum 3 cm) it is possible to grow grass between the plates, obtaining an effect of continuity with the neighboring lawn. They can be repositioned and are ideal for creating natural paths and for use in green areas such as parks and gardens.
A very practical type of application, used specifically in structures close to marine areas, such as bathing establishments and tourist villages. It helps to define safe routes for those with reduced mobility and not subject to the aggression of salt.
This type of substrate guarantees the necessary stability and drainage of rainwater whether it is a terrace or a garden. The joint may be small in size. Also in this case it is possible to remove and reposition the paving.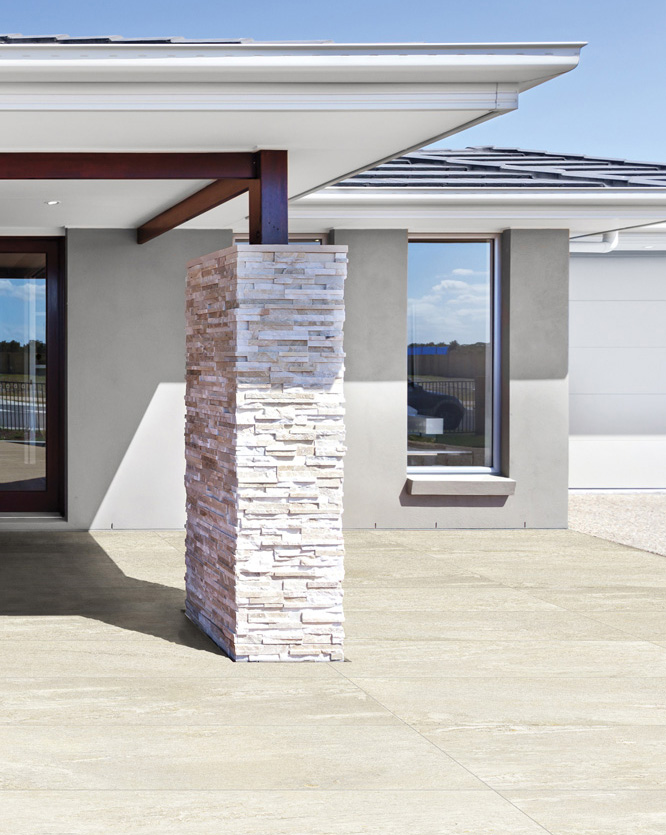 The application that guarantees drive-over without surprises
LAYING WITH GLUE OR ON SCREED
The slabs are glued on a rigid screed, for long-lasting outdoor applications: ideal for areas particularly stressed by vehicular traffic such as courtyards and driveways, walkways that can be safely traveled. The rectified edge favors a precise installation.
Download the installation guide